DENTAL ADVICE BLOGS 2007

This is an archived list of DENTAL ADVICE BLOGS from previous days. All DENTAL ADVICE BLOGS are written by one of our editors, all of whom are practicing dentists.
Their purpose is to provide further dental information which may help others with similar issues, or to stimulate questions or discussion. If you have questions about any procedures or statements made here, please feel free to CONTACT US.
At the beginning of each DENTAL ADVICE BLOG, the TOPIC of the entry is listed to provide ease of use.
Any references made to patients are entirely anonymous, and any names used are made up to protect the real person's privacy. Also, your personal dentist should be consulted regarding any dental procedure which you intend to have done, as this site is not intended to diagnose or treat anyone's dental needs.
DENTAL BLOGS, 2005 
DENTAL BLOGS, 2006 
DENTAL BLOGS, 2008 
DENTAL BLOGS, 2009 
DENTAL BLOGS, 2010 

DENTAL ADVICE BLOGS 2007
25 December 2007
Those of us at Dental Advice Blogs, wishes everyone a MERRY CHRISTMAS EVERYONE!!
20 December 2007, Dental Blogs
COMPLETE DENTAL TREATMENT BEFORE BRACES
Make sure that you have any cavities fixed or other routine dental work completed before you get yourbraces on. Once you get your braces, you will need to see your orthodontist every month or so, and very often patients do not see their general dentist the entire time they have braces. This is a recipe for disaster. If you do this, when you finally get your braces off, you may be in for a LOT of dental work. It's hard enough to clean your teeth with braces, without having to worry about old cavities growing!
6 December 2007, Dental Blogs
DELAYING DENTAL TREATMENT (again!)
The other day we had a patient come in who had a severe infection and was in a lot of pain. Upon review, we noticed that this patient was supposed to have a root canal done over 2 months ago, but never showed up for his appointments. Now, what would have been a routine root canal which probably could have been completed in 1 visit, will now take multiple visits and be much more difficult to deal with due to the extent of decay and swelling. We see this all the time. If you neglect your dental work, small problems will turn into big problems. Which makes your dental experience much less enjoyable!
22 November 2007, Dental Blogs
Those of us at Dental Advice Blogs, wishes everyone a HAPPY THANKSGIVING EVERYONE!!
2 November 2007, Dental Blogs
HALLOWEEN CANDY
Hope everyone had a fun and safe Halloween! As for the candy; I know it is part of being a kid to eat as much candy as you can after Halloween, but parents, just monitor your children. Some pediatric dentistswill even let patients exchange candy for money or prizes.
20 October 2007, Dental Blogs
DELAYING DENTAL TREATMENT
I know we've discussed this before, but we still see this all the time. Someone comes in with a cavity, but for one reason or another, they don't get it done. We see them in a couple of years, and now they need aroot canal and a crown. They complain about needing all that work, and don't get it done. Next time we see them we end up extracting the tooth. This happens all the time. If you put off your dental treatment, the small problems will turn into big problems. And if you think it is expensive now, it's going to get more expensive.
30 September 2007, Dental Blogs
PARENTS IN THE DENTAL OPERATORY
When your child is going to the dentist, behavior wise sometimes it is better if the parent(s) are leave the room. Each case is different, but if the dentist asks you to leave, don't get offended! I know you need/want to make sure that your child is ok, but sometimes children tend to act up when their parent is around, then when they leave, the child calms down. Pediatric dentists have had advanced training on dealing with children, and it truly amazing what they can do.
18 September 2007, Dental Blogs
IF IT DOESN'T HURT?
Don't fix it? Not necessarily. Many people think that if a tooth is not hurting, there is nothing wrong with it and think their dentist is making things up. Obviously if a tooth hurts there is something wrong, but the reverse is not always true. Many times cavities do not cause symptoms until they get very large; and at that point they may end up needing root canals and or other treatment. There is enough dental disease around without dentist having to make it up. On the other hand, if you don't trust your dentist, find a new one.
31 August 2007
Those of us at Dental Advice Blogs, wishes everyone a HAVE A SAFE AND FUN LABOR DAY WEEKEND!!
6 August 2007
CROWNS AFTER ROOT CANALS
After a posterior (back) tooth has had a root canal, it really needs to be crowned. Yes, crowns are expensive, and yes, the tooth may feel better, but after a root canal, the tooth is structurally much weaker, and is at a much greater risk for fracture. And when it does fracture, often times the tooth will need to beextracted.
20 July 2007
CLEANINGS AND YOUR FIRST VISIT
Many people expect to have their teeth cleaned at their first visit to a new dentist; which doesn't always happen. Patients need to understand that not all people need the same type of cleanings, and different types of cleanings require different amounts of time; so it is difficult to predict what condition every new patient is going to come in with. Some patients may only take 30 min to clean, but patients with gum disease may take multiple visits over an hour long! Just know that some dentists may get your cleaning done at that first visit, but often times you will not.
4 July 2007
Those of us at Dental Advice Blogs, wishes everyone a HAVE A SAFE AND FUN 4TH OF JULY!
2 July 2007
TOOTH FRACTURES
Below is a picture of a tooth that fractured right down the center of the tooth. Anytime a tooth has a fillingor has had any work, it is weakened, and is at an increased risk for fracture. This case below was a very severe fracture, and the tooth had to be extracted.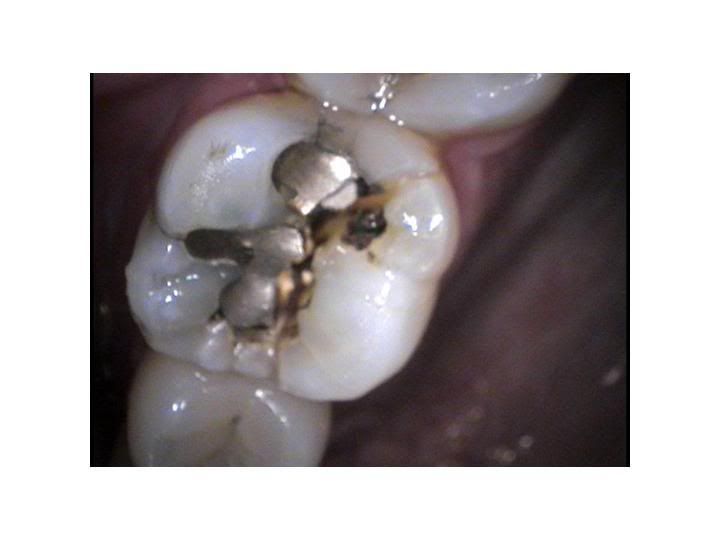 8 June 2007
I DIDN'T PUT THE DECAY THERE
It always disappoints me when patients come in for an exam, and when informed that they have cavities or some other need, they get upset at the dentist! Often it is these same patients who don't brush/floss regularly, yet are eager to blame the dentist for their dental problems. We would love to give every patient good news and tell them their teeth look great, but that would not be doing them any favors. Decay progresses rapidly, and cavities can turn into root canals, crowns, or extractions. So just know that giving people bad news is one of the worst parts of the job!
25 May 2007
DRUG INFORMATION
This site is not about drug interactions, but may of you have requested information about certain drugs. To that end, we have added a link from our dental premedication page. Check it out to find out information about whichever drug you are inquiring about.
11 May 2007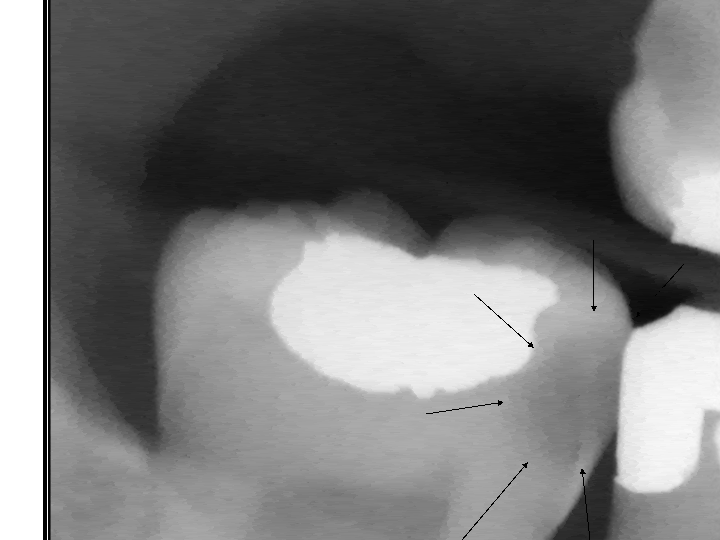 This is what a cavity looks like on an xray. The arrows are surrounding a dark shadow, which indicates decay. This is a very deep cavity which may end up causing the tooth to need a root canal. (Many small cavities are not really visible to the untrained eye)
*note, the whitest part on the tooth indicates an amalgam/silver filling.
18 April 2007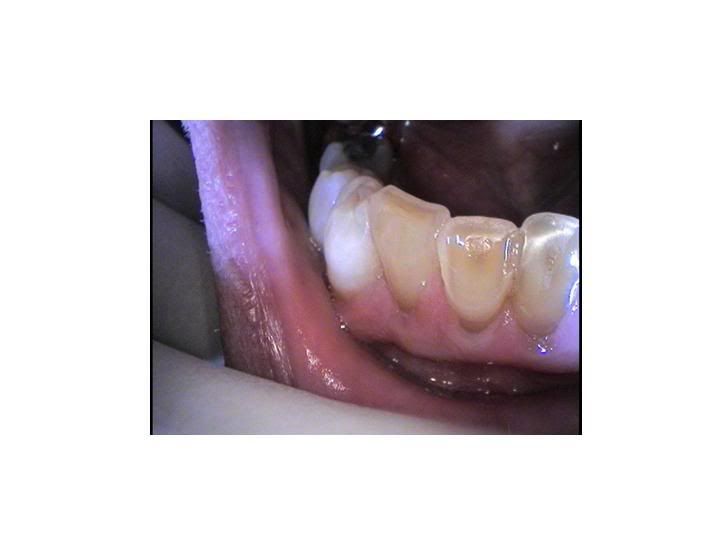 Bruxism (clenching can cause the same phenomenon), or grinding your teeth can cause extreme wear on your teeth! This can collapse your bite, and cause your lips and face to sag and cause wrinkles near the corners of your mouth. The worst part is, once your teeth get worn, often times the only way to fix it is to do a full mouth reconstruction, which involves crowning every tooth. Something you don't want to go through if you don't need to.
10 April 2007
WHEN CHILDREN CRY
Going to the dentist can be a very intimidating and frightening experience for a child. Often times parents think that as if their child cries, the dentist is doing something wrong, or is being mean. Not that this is never the case, but often times children cry because they are scared and unsure, rather than because they are in any pain. Children are normally very easy to get numb, so that is not usually the problem. On the other hand, there are specialists for kids, called pediatric dentists, that have received extensive treatment in children who are more apprehensive when seeing the dentist.
27 March 2007
LASER TREATMENTS
Lasers are fast becoming more commonplace in dental offices today. Unfortunately they have not replaced the "drill", but they are being used for such thing as treatments for periodontal disease and some smallcavities (among other things); and they often do not require local anesthetic!
9 March 2007
POST OPERATIVE NUMBNESS
Most dental procedures require local anesthetic in order to numb the tooth, or area that is being worked on. Unfortunately, most of the time the anesthetic lasts much longer than the dental procedure. Because of this, it is very important that patients be careful when eating or drinking after their dental procedures, because it is very common for patients to chew on their lips or tongue, or burn themselves without even knowing it!
27 February 2007
IMPLANT CANDIDATES
Dental implants are becoming more commonly used to help restore teeth. Not all people are good candidates however. There are many factors such as the thickness and density of your existing bone, and many medical considerations. Smoking, diabetes, or other medical conditions definitely can affect whether you are a good candidate or not.
14 February 2007
Those of us at Dental Advice Blogs, wishes everyone a HAPPY VALENTINE'S DAY!!
3 February 2007
CHECK OUT OUR NEW SEARCH FEATURE ABOVE! SEARCH FOR ANY DENTAL TOPIC YOU WISH WITH OUR SITE!
31 January 2007
VENEERS VS ORTHODONTICS
If you have crooked/crowded front teeth, veneers can be done to make the teeth appear straight. Often times the best way really is to have orthodontics, or braces done. Many people are reluctant to do so as adults, but more and more adults are getting braces.
23 January 2007
CROWNING ROOT CANAL TREATED TEETH
I know that this topic has been discussed previously, but it deserves mentioning again, because we see it all the time. AFTER TEETH HAVE ROOT CANALS DONE, THEY NEED TO BE CROWNED. They are substantially weaker, and are far more likely to FRACTURE, and when they do, the tooth normally will need to be EXTRACTED. Often times finances are an issue, so make sure that if you are going to invest in a root canal, you are also prepared to invest in the crown!
12 January 2007
LEAKY CROWNS
When your dentist tells you that your crown is leaking or is not sealed on the tooth, many people think that if it isn't hurting, it does not need to be fixed. You must remember that bacteria (which causes cavities) is microscopic, so if there is an opening large enough for the human eye to see, there are countless numbers of bacteria that can get through that opening; which will certainly cause decay, and possibly the need for aroot canal if left untreated. So, if it is not hurting, good, but get it fixed before it does!
Return to Dental Advice.
Return to Dental Blogs.
Return to Onedollardentist home.